Executive Master in Business Administration and Management (EMBA)
Home ›
EMBA ›
Executive Master in Business Administration and Management (EMBA)
Program Description
The Executive MBA of CESMA Business School , is an advanced and demanding program aimed at experienced professionals who want to be trained at the highest level, making their work compatible with studies. Companies demand professionals that combine several characteristics: they must possess knowledge, but these must be complemented with attitudes of effort, collaboration and commitment. That is why at CESMA, we attach great importance to the development of personal skills, which contribute to increasing self-knowledge, self-motivation and social relations of our students. The intensive week that is developed at the beginning of the master's degree is an excellent opportunity to strengthen in the classroom those skills that will be the fundamental motor for the professional activity and the own performance in the program.
Our students, professionals interested in perfecting their capacities for better management, should be leaders that contribute to the transformation of their organizations, in a complex and changing environment, able to take advantage of the many opportunities that emerge with great intensity in this dynamic environment.
goals
The main objective of the master is to provide participants with the knowledge and skills that enable them to effectively exercise managerial functions in companies and institutions. Reasonably, the development of management functions requires knowledge of the instruments and systems for the planning and overall management of the business, as well as for the definition of policies by functional areas. However, this knowledge must be complemented with the development of managerial skills that stimulate the ability to analyze and make decisions, leadership and communication, as well as attitudes aimed at creativity and entrepreneurship.
Regarding the specific objectives, we highlight the following:
Increase the training of the participant with the knowledge and basic management tools of all the functional areas, necessary for the management of companies.
Enhance the analysis and synthesis capabilities needed to acquire an overview of the business as well as the company as an integrated unit.
Improvement of the ability to simplify and outline complex management problems, as well as to formulate solutions and action plans for their implementation.
Development of the ability to think from the global perspective of senior management.
Reinforcement of the participant's skills for communication, developing their leadership skills.
Attention to the personal attitudes of the participant, encouraging their willingness to develop and strengthen capacities to work in a team efficiently.
Understand that efficient management is always based on the collaboration and support of people who work at all levels of the organization.
Acquire a broad sense of the manager's responsibility towards all those affected by their decisions (shareholders, employees, customers, suppliers, social environment, ...).
Encourage the change mentality to collaborate in the continuous improvement and transformation of the organization.
Deepen professional experiences, analyzing how to solve situations that arise in business reality.
Program
The Executive MBA is divided into seven areas of knowledge, within which the different modules are framed:
General Management

Financial Management.

Commercial address.

Operations Management

Human Resources Management.

Business environment.

Management Skills.

Information systems.
Analysis of Business Situations
Information and Control Systems, Accounting and Cost Analysis Human Behavior in the Organization Finance. Financial Management Marketing and Commercial Management Production. Technology and Operations Management Company Policy Directorate General Socio-economic environment Analysis of Decisions Legal Framework and Taxation of the Company Information systems The Company and its Social Responsibility Development of Initiatives and Business Plan
Modules of Development of Personal Skills and Directives
Development of Personal Skills
Teamwork techniques
Communication techniques
Negotiation Techniques
Admission process
To access the registration, CESMA Business School carry out a process of selection and admission of candidates, based on the analysis of the Curriculum Vitae and the conduct of personal interviews, to evaluate the level of training and / or previous accredited experience, for the purposes of guarantee the suitability of the group of attendees.
Admission request
Title and Academic File
Curriculum vitae
1 Photography
Personal interview
Admissions Committee
Aids and Scholarships
CESMA, within its Social Responsibility Plan, annually programs a system of scholarships and training aids.
The essential objective of these scholarships and bonuses is eminently social and aims to establish effective aid for disadvantaged groups so that the lack of economic means or the difficulties of integration do not constitute an impediment for all those people who wish to improve their personal and professional development .
Professional practices
The commitment of CESMA Business School extends beyond the classroom, through our Professional Development Department, whose mission is to offer our students an open door to new professional opportunities through the following services:
Orientation for the development of his professional career and / or access to the labor market.
Proposal of offers for internships in companies.
Job offers and job improvement.
Employment Forums.
Seminars for the Active Search of Employment.
CESMA Business School , counts to date with the collaboration of more than 2,700 companies in this department, who trust in the academic and professional quality of our students
CESMA has a platform for job searches and internships, where students and companies include their demands and offers.
Last updated Mar 2020
About the School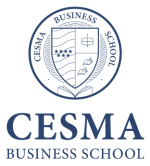 CESMA Business School es una institución educativa orientada a la gestión, la innovación y el espíritu emprendedor. Somos conscientes que la educación en los negocios, no se limita a la formación de b ... Read More
CESMA Business School es una institución educativa orientada a la gestión, la innovación y el espíritu emprendedor. Somos conscientes que la educación en los negocios, no se limita a la formación de buenos administradores, financieros competentes o directivos bien preparados, sino también a la formación en valores y a la ética empresarial.
Read less