MBA in
MBA International Management
Pforzheim University
Key Information
---
Campus location
Pforzheim, Germany
Tuition fees
EUR 4,400 / per semester *
Application deadline
Request info
Earliest start date
Oct 2024
* per semester
Introduction
Degree
Master of Business Administration (MBA)
Course Language(s)
Our program is held entirely in English; for international students, German language classes at all levels are integrated into our schedule.
Admission Semester
Summer (business graduates only) and winter semester (all other degrees)
Beginning of Program
Winter semester: Late September
Summer semester: Early March (fast track for business graduates)
Why Pforzheim MBA in International Management?
Get a state-of-the-art education at a reasonable cost.
Our intention is not to maximize profits but to provide sustainable management education for future generations of executives. You get »more for less« – an internationally highly recognized degree and skill for dealing with the business challenges of the 21st century.
Alumni Network
The alumni of the MBA International Management are working around the globe in a variety of high-value industries. Most of them stay in close contact with the program after their studies thus forming a very strong alumni network. Events like "Alumni meet Current Students", "Guest in Classroom" or the "Mentoring Program" that all aim to bring together successful MBA graduates with ambitious current students are a vital part of the program.
Curriculum
Program Duration
4 semesters (21 months) for non-business graduates
3 semesters (15 months) for business graduates [=fast track]
Focus on what you really need.
We deliver business competence, not just theory. Our professors do not only hold Doctoral, Ph.D., or Master degrees – they have worked for at least 5 years in senior management positions. Our teaching is based on research as well as professional experience. Moreover, the Pforzheim MBA module system allows you to individualize your study to empower your strengths.
Globalize your network.
Over 80% of Pforzheim MBA students are international, coming from all continents. Global, intercultural networking begins right in the classroom. Intercultural competence is not only taught theoretically, it is gained practically by day-to-day interaction. This will be important in your professional future in negotiation processes and teamwork. Renowned guest professors from partner universities contribute to our program.
Curriculum
In our program, we integrate international and generalist classical management foundations with the most relevant future topics: Innovation Management, Sustainable Globalization, and Digital Transformation. In addition, the Master Module System allows you to personalize your studies to empower your strengths. Depending on your own interest you may choose electives in Consulting, Marketing, Finance & Accounting, and more.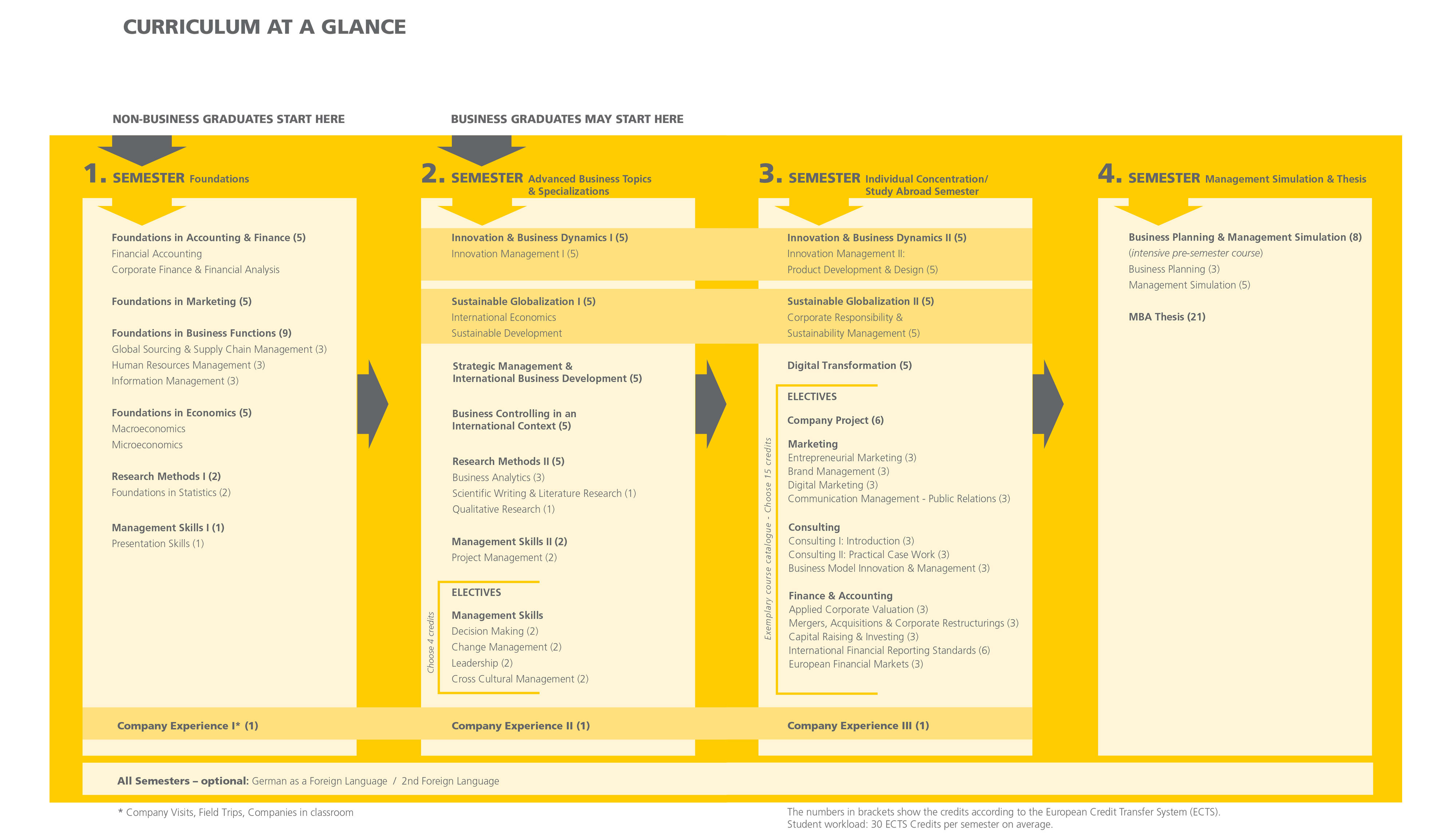 Enjoy international culture.
The Pforzheim MBA offers the opportunity to study in two countries or even two continents in one program, at our partner universities in the US, Latin America, Asia, or Europe. For students with a first degree from a German institution, it is compulsory to study the third semester abroad. For all other students, it is optional.
Rankings
Enjoy high-quality education
Ranked among the »TOP 10 International Master's Degree Courses – Made in Germany«, the Pforzheim MBA prepares you to take managerial responsibility. Our commitment to quality and continuous improvement is confirmed by the accreditation of AACSB International. Pforzheim University Business School thus belongs to the elite group of less than 5% of business schools worldwide, and to less than ten of about 200 German business programs that are AACSB accredited.
Career Opportunities
Enhance your career opportunities
The Pforzheim MBA opens broad new opportunities for career development. Whether you want to tackle new challenges, have experienced a slowdown in your learning curve, or are unable to move ahead in your current company, the Pforzheim MBA enables you to re-energize your career with new knowledge and skills, a new professional network, and a new brand association. If you have a non-business background, the Pforzheim MBA prepares you to reorient your career towards business and management.
Enjoy individual career advancement and coaching
Our professors are your coaches, not your instructors. You will benefit from individual mentoring from professors throughout your studies. Our small course size encourages intense student-faculty interaction which is crucial to achieving the best outcome from your MBA studies.
Get business insight
Being surrounded by some of the world's most powerful companies allows you to benefit from the potential of the Pforzheim-Stuttgart region. We cooperate with various companies in different sectors through company projects, company visits, and guest speakers in the classroom. These close connections to practice are a vital part of our management education in Pforzheim.
Discover the business of tomorrow
We prepare you to manage the big challenges of the 21st century for the benefit of your company. Our courses in business disciplines like Marketing, Consulting, Accounting, and Finance address the needs of tomorrow's business. Additionally, our specializations in Innovation Management, Sustainability, Globalization, and Digital Transformation tackle tomorrow's challenges. Moreover, we offer soft skills training throughout your studies.