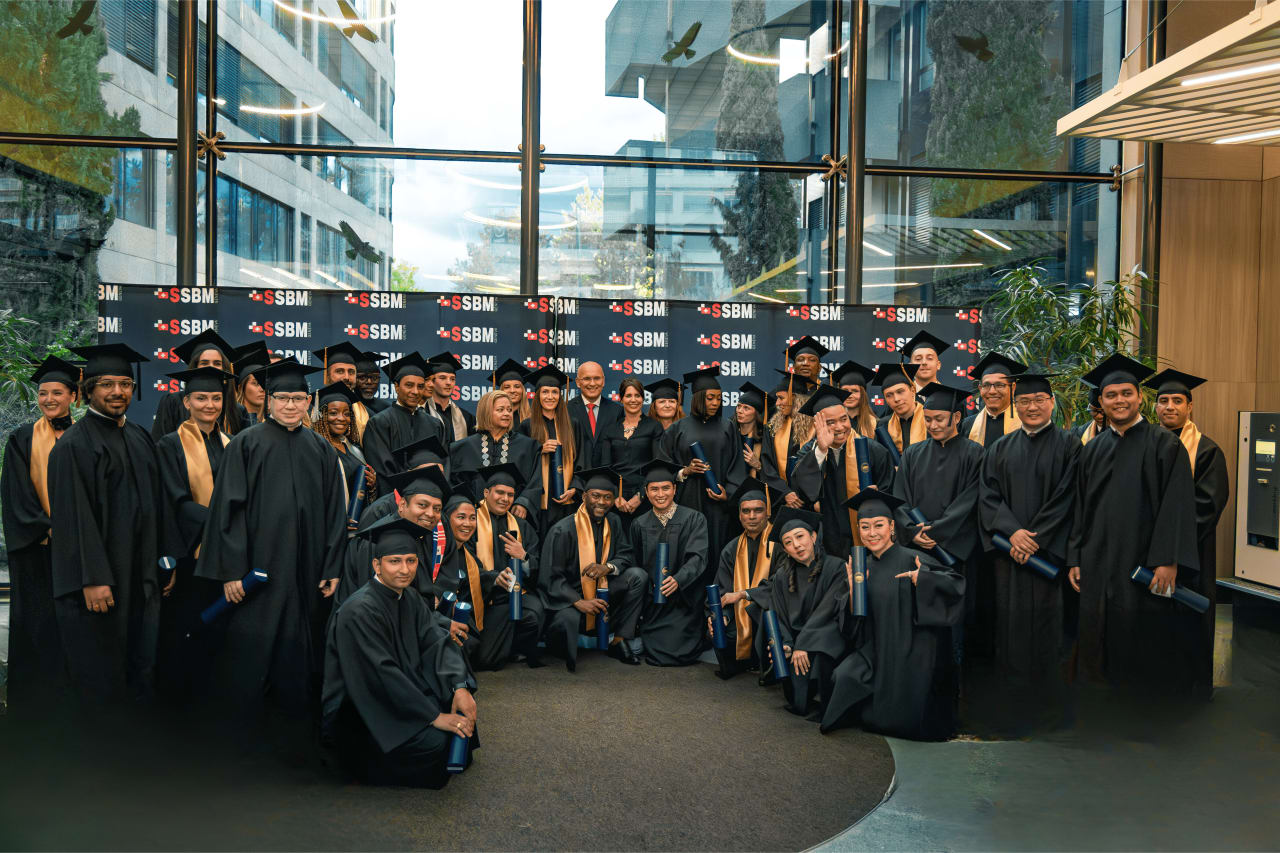 MBA in
Global MBA
Swiss School of Business and Management

Key Information
---
Campus location
Geneva, Switzerland
Tuition fees
EUR 15,000 / per year
Application deadline
Request info
Earliest start date
Request info
Introduction
Global MBA is taking place in Geneva, Switzerland.
MBA focuses on 3 key areas that deal with global aspects:
Innovation & Disruption
Leadership
Management
On top of the 10 core courses you have to complete, we also offer 6 optional/elective courses that you can attend. Some of the topics include the continued rise of AI, Feeding a culture transformation, Keeping up with the data eruption, Robots, Increased value for human skills, Automation drives new skill shifts, Ethics challenges for leaders, and businesses.
Overall, the Global MBA is composed of 10 core courses and 6 elective courses that will be taught by leading experts over 20 industry and business partners.
Specializations
Specialization
Global and International Management
Human Resource Management
Global Finance & Banking
Specialization is dependent on the selected elective courses
Overview
12 to 16 Months
24 to 34 Extended Weekend Lectures
10 Core Courses + 6 Elective Courses
24 Contact Hours per Course
Lectures are held on Fridays/Saturdays
60 ECTS Credits
Taught in English
Specialization is dependent on the selected elective courses (at least 2)
There are 6 elective courses to select for the specialization that deals with following topics*:
Big Data and AI
Robots, People, HR and Management Issues
Digital Transformation and Future of Work
Change Management
Culture of Transformation
HR and Co-working Spaces
* final list of available seminars is subject to change
Our Global MBA will help you to be prepared to assume senior-level management roles in a variety of organizations and industries. Many of our graduates are currently employed in the following roles Director, CEO, Vice President, Senior Management, Owner / Partner, Entrepreneur, HR Expert, etc.
Overall Global MBA brings the following aspects to your career development:
Conduct professional competency building activities
Acquire global orientation
Develop real-life problem-solving abilities
Provide practical orientation to management theory
Get a holistic and strategic understanding of business
Implement innovative and creative thinking
See entrepreneurship in action
Acquire a collaborative mindset
Global MBA
Global MBA was designed in partnership with over 20 business and industry partners.
The Global MBA program is offered in English, brings 60 ECTS credits, and is organized into core courses and seminars. Earn your Global MBA in 12 months or less while continuing to work and building your on-the-job experience. The program takes place in Geneva, Switzerland.
The practical relevance and applicability of the curriculum are the focal point of this postgraduate program. The Global MBA's course contents cover a broad spectrum of relevant management topics, such as corporate finance, global business environment, leadership, marketing and communications, supply chain management, and strategy. During your studies, you will gain access to productive practice-based projects and learn to apply the curriculum directly to real life.
All of the lectures are following high standards and are delivered by our professors or Deloitte lecturers. Our professors will keep you engaged, motivated, and will provide high-quality teaching experience so you leverage your professional development and advance your career.
Experts in Business Education
SSBM is "Experts in Business Education". Our core values stand on:
Innovation
Diversity
Connectivity
Expertise
We offer Swiss quality through unique Experience, Exchange, Everywhere, and Engagement.
Our Campuses
SSBM Geneva offers the educational programs at 4 locations: Geneva (Switzerland), Zagreb (Croatia), Shanghai (China), and Moscow (Russia).
SSBM Connect
How about connecting with your peers, alumni, students, professors, industry leaders, and companies we work with?
SSBM enables this through our unique and innovative "SSBM Connect" platform where you can engage, interact, and socialize with the SSBM community!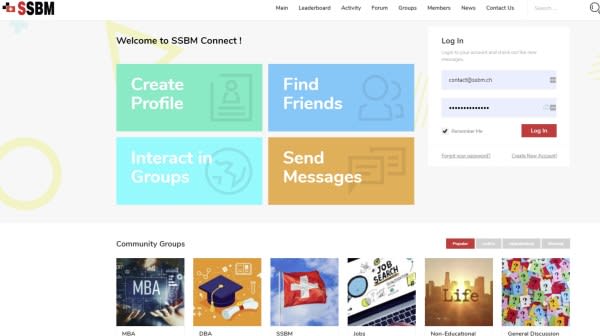 Alumni
Networking is one of our core strategic directions.
SSBM has signed a strategic partnership with MBA Alumni clubs enabling SSBM MBA students to become members of the MBA Alumni Club. This will provide to our MBA students new networking opportunities to connect with peers from the same but also different industries as one of SSBM's main objectives is to have a diverse student body.
Still Wondering Why Study at SSBM?
SSBM is a truly innovative and leading business and management school that aims at taking education to a new level!
We aim at providing a superior learning experience that will have a direct impact on your professional development.
With our unique programs, you will strengthen your strategic vision, efficiency, and leadership to manage today's organizations.
Apply To SSBM
The Application Process
Applications go through the SSBM's admissions website.
The admissions team looks for evidence of academic ability as well as indications of past performance and future potential.
If you have questions or would like help with your application, please feel free to contact our dedicated team at any point in your application process at [email protected]
Step 1

Prepare Your CV/Resume
Professional Resume (in pdf format)

Step 2

Fill the Application form
Send us your Application form (in pdf format)

Step 3

Your Photo
Professional Photo (jpg or pdf format)

Step 4

ID document
Passport/ID document or driver's license (jpg or pdf format)

Step 5

Grades transcript
Most recent transcript or diploma (pdf format only).

Step 6

Submit
Submit all documents from Steps 1-5 and send it to us by email. The application process should not take more than 10 minutes. Once the application form has been submitted, we will send you full details on the next steps.
Things To Know First
The Common Application is required for students applying to any of SSBM's programs.
For some of the degrees you have to fulfill some minimum requirements:
To attend our MBA program you must have at least 180 ECTS from your previous degree.
Our doctoral degree is open to anyone who already holds a Master/MBA degree or has extensive professional experience. You must have at least 180 ECTS from your previous degree.
Our Certificate programs do not have any strict requirements and can be taken by anyone who has acquired or is in the progress of receiving a bachelor's degree.
When To Apply?
You can join our program at any moment once the Admission Committee reviews your application. Be certain that you have the necessary qualification for each of our programs. SSBM will review your qualifications during the course of your studies. SSBM reserves the right not to award you a degree if the admission criteria are not met.
What is Next?
After being admitted to our programs, you will receive a letter of admission. Having processed the payment, you will receive an email with your login credentials and will be granted access to our Learn Management System.
Accreditation

Curriculum
Curriculum
Global MBA curriculum is composed of 10 core topics + 6 elective courses that you can attend. We organize elective courses in collaboration with our business and industry partners on specific topics relevant to global business and management challenges.
Required Courses
SM - Strategic Management
SL - Strategic Leadership
PM - Project Management
FM - Financial Management
OB - Organizational Behavior
SMA - Strategic Marketing
DADM - Data Analytics for Decision Making
FSA - Financial statement analysis and Company Valuation
DT - Digital Transformation
TM - Tax Management
Elective Courses
Strategic Risk Management
Organizational Agility – surviving and thriving in turbulent times
Costing and Profitability through the prism of Activity-Based Costing (ABC)
* final list of available seminars is subject to change